If I'm going, to be honest, I would not advise you to go on crazy shopping sprees in Norway and buy as much as you can. Why do you ask? Well in Norway everything is so expensive and the fashion is mediocre. Of course, there is the occasional clothing piece that is amazing, but overall I think that you will be better off with packing clothes from your place. You probably wonder what I mean with mediocre fashion. Norway is very behind in fashion and you will see the same pieces of clothing on everyone almost. It's not bad but in my opinion, it's just a little bit boring and you have seen it a thousand times before. I can give you a little guide to basic Norwegian fashion. (keep in mind that not everyone dresses like this, this is just the stereotypical way of dressing in Norway)
To start it all of you would use pants which is tight at the legs and wide at the bottom, usually denim. And then you have the classic black jacket with fur at the hood. All of this peered with a pear of ugs or filas.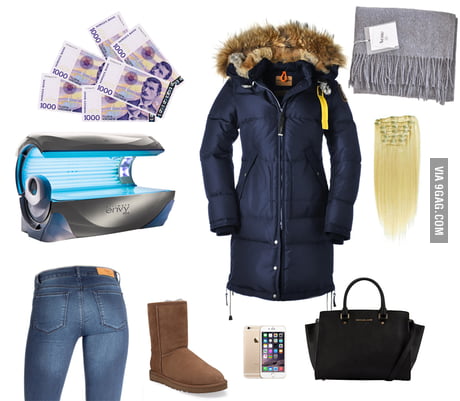 Now I can talk about the exciting part of Norwegian fashion, or maybe you can call it a tradition. Of course, the traditional clothing of Norway called bunad. Its a traditional folk costume. It's worn on special days like 17 of may with is Norway's national day and weddings. Its made of wool and is decorated with jewelry and buttons. It also has a little hat that not all people use. The bunads color completely depends on where in Norway you live. For example where I live its blue and where my grandma lives its green.
It all sounds very nice, it's very pretty so why don't buy one? Well, I have to disappoint you with the price. A bunad usually cost around 2000 dollar or more. It's so expensive because of the fabric and the fact that it is hand made.
I can also talk about our friends up north. The Sami. They live in Norway and around Sweden and also have special clothing called a samedrakt in Norwegian. I can't say that I have a lot of knowledge about it because I'm not Sami, but I wanted to include them because of the interesting and nice-looking clothing. Its also made of wool and also have a hat. They also have special and nice shoes to wear with clothing.